Additional Facts:
---

Range of sizes and models available including 1-2 (Pictured above), 2-3 (pictured below) and 3-4 persons.
Larger sizes available on request.



Easily fits in or around different sized hammocks



Spacious – tents remain well clear of all your body.



Saves buying and carrying expensive, heavy sleeping bags & coats



Made from quality materials. - Durable and reliable.


Ideal for Backpackers, Bikers, Hikers, Mountain climbers, Campers, …anyone!
Patent Application No. 63548/98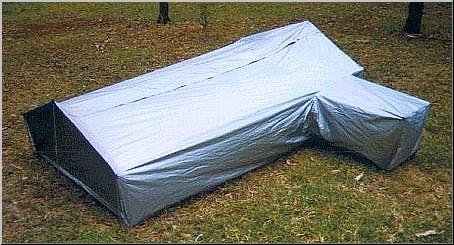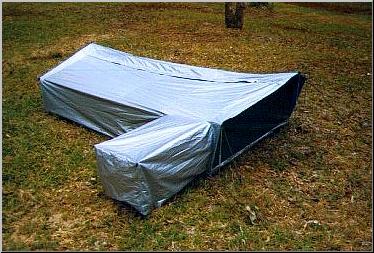 HUGE ADVANTAGES OVER EXISTING SYSTEMS
---

Other brands of tents are not very light because they are tall and contain waste space. Their larger surface area means that they can be blown about by the wind. Therefore, they must be extra strong and heavy. As a result, they need to be anchored securely with heavy pegs. This takes time. Many tents are not water proof and extra flies are required. Generally tents are not designed to retain heat, therefore heavy sleeping gear is required.



These problems are overcome by the New Temperature Controlling Featherlight Tents which are especially designed to fold up light and compact, yet still allow you to store gear inside within a pantry. Opening the top zip allows you to sit up and exit easily. As these New Temperature Controlling Featherlight Tents are small, wind hardly effects them, therefore small pegs, if any, are required and only light material is needed. Such low tents mean easy access around the campsite, as you can easily step around or even over the tents from one side to the other. A small size means that they can easily sit between trees, roots and rocks and can be used in a hammock. Poles are provided. However, they are often not needed because sticks or trees can be used. This will reduce the weight even further. Waterproof material is used. Unlike other tents, these tents are used to retain heat around your body only when needed, yet give you good ventilation.


HOW THE TENTS WORK IN DETAIL
The first diagram below shows how the tents remove wind chill by trapping a greenhouse like chamber of warm air released by your body. There is a flap or dividing curtain between your head and body. This prevents cold air from the top opening reaching your body, which is sealed in a chamber. Your head is outside the chamber, therefore you will breathe fresh air that is flowing through the top opening. The bottom flap is zipped shut.

The 2nd diagram below shows how the air will flow when you want to cool your entire body. You can simply unzip the bottom flap to allow air through the bottom opening. Simply unzipping and tying back the dividing curtain can enhance the cooling effect.

Exit is simple through the tent's roof, opened up by unzipping a long zip.
Gear can be stored in a unique pantry protruding from the side of the tent. The opening is on the inside of the tent.
The New Temperature Controlling Featherlight Tents are also waterproof and insect proof with net at each opening. Additional features include rainhoods and string shorteners.
The below diagram shows the end view of single person tent. The strings supporting the sides are not shown.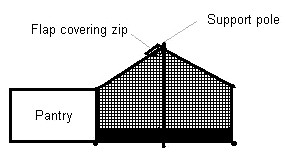 The below diagram shows how the tent looks when it is erected.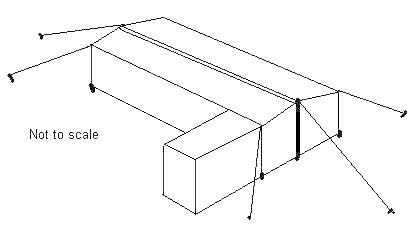 The following 3 diagrams show how the tent can be folded. It is not that critical how it is folded. However, I have found the best way is to remove the tent poles and pegs and leave the base where it is so that the top section of the tent rests on top of the base as shown in figure 1. Then you can fold the tent lengthwise so that the width is one third of its original size as shown in figure 2. Starting from the top end of the tent near the pantry, you can then roll it up into a neat roll as shown in figure 3.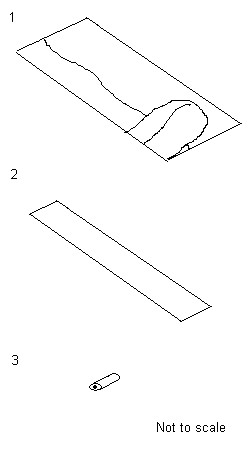 Please note that all the above diagrams are not to scale.



HOW TO GET YOUR TEMPERATURE CONTROLLING FEATHERLIGHT TENT OR MORE INFORMATION
---
Please check the price list, submit the forms and state if you are interested in becoming a reseller of any of these products.

For further information and orders Click here.

Worldwide distribution is now available for this product.

Become a reseller free. All you have to do is email your name and URL and I will send you a unique link to earn dollars. Click here.

Interested salespersons, agents, investors and manufacturers, who wish to join in the commercial exploitation of these exciting innovations, should contact us.



Please give some feedback - Click here for email address.


Join the mailing list - Click here to email.


Swap links. The more traffic you send here, the more targeted traffic you get in return.


Similar sites that have swapped links.


Please copy and distribute this information but email me first for details. Shorter articles are available if needed.


Copyright 1998 - 2009 by Richard Hole.

Sites below highly recommended with something for everyone - Click here

Christian Sites - Deception warnings, Forum, Prophecy, +

Inventions

Press releases & Articles

Weather Organization

Lobby group with country's solutions

Inventors society

Conspiracies